The Love of a Mother
the love of a mother
The Love of a Mother
She gave all and received nothing
Jesus' Teachings
"Love Your Mother and Father"
The Beginning
My name is Marie and I'd like to share my story.
When I was 10, my family moved from Jamaica to the United States. Our family included my mom, dad, older brother, and paternal grandparents.
Looking back, my childhood was pretty typical.
My parents emphasized the importance of family and instilled strong values in us.
They often told my brother and me that a loving family was worth more than any amount of money.
Education was also a top priority in our household. My dad always said, "Get a good education, and the world will be yours."

I worked hard to excel in school and consistently ranked at the top of my class.
My First Love
During my final year in high school, I fell deeply in love with a charming older man named Johnny.
I knew from the moment I laid eyes on him that he was the one for me.
Despite my plans to attend college, I decided to put my educational aspirations on hold in order to marry.
Though my parents were disappointed, they ultimately wished us both well.
After being married for two months, I became pregnant, which felt like a perfect fairy tale dream.
However, after the birth of our son, my fairy tale turned sour.
I noticed a drastic change in Johnny's behavior. He was no longer the kind and affectionate man I had fallen in love with.
He became hostile and aggressive towards me and our son, claiming that I was not giving him enough attention and that the baby was a source of conflict. He refused to bond with our child and saw him as a threat.
Despite our frequent arguments, I never expected Johnny to abandon us.
One day, he walked out the door and never returned. He has been missing ever since.
Sadly, our marriage ended after just two years.
A new Beginning
With no job or money, my greatest source of support was my family, who welcomed me with open arms and provided me with all the help I needed to take care of my baby.
Through several rounds of job interviews, I finally landed a job as a clerical worker at a company.
Over time, I worked hard and demonstrated my skills, and after just two years, I was promoted to bookkeeper.
I stayed with that company until I retired, grateful for the opportunities and support that helped me build a better life for myself and my family.
I am proud to say that my son never lacked anything. He had more than enough.
I had a few dates, but I never remarried.
My main focus was on my son, and I didn't want anything to come between us. My child's life was everything to my.
My Son's Graduation
One of the greatest joys of my life was when my son graduated from college.
When he told me that he wanted to attend a Master's program, I was elated. I gave him all the financial support he needed. I wanted him to be happy.
After two years, he graduated with a business degree. Later, he became a CPA.
I was the proudest mother in the entire universe.
My son, who had secured a good job, was living on his own.
A year later, he got married. Soon afterward, he became a father.
Joshua was the newest member of our family.
Everything was perfect. I was healthy and working, and my son was happily married with a son.
Retirement
After I retired, my life took a turn.
My son went through a divorce and remarriage. He was  the father of four children.
When my grandchildren were young, we were very close. They used to stay overnight at my place a few times every month.
However, as they grew older, I started seeing them less and less.
Whenever my son came to visit, which was usually two or three times a month, he would inform me that the kids were preoccupied with school work or other commitments.
Friends
I stayed occupied by socializing with my neighbors and going to the senior citizen community center.
It was enjoyable as we played cards or bingo and went on a few trips each year.
Despite my family keeping their distance, I found solace and affection in my friendships.
Disappointment
When I was 78, I fell and broke my hip bone. I was hospitalized and had a hip replacement.
During my stay in the hospital and rehab, my visitors were my friends. My son would occasionally visit but only stay a minute or two. As for my grandchildren, they never came. 
On the day of my discharge from rehab, my son picked me up. He began to talk about nursing homes and the many benefits they provided.
When I refused adamantly to entertain his suggestion, the conversation was terminated.
I returned home to discover that my days were numbered.
When I was in the hospital, my son insisted that I give him power of attorney. After much thought, I gave in. I never thought he would use it against me.
Behind my back, my son arranged to sell my home and place me in a nursing home. His reason was that I was getting too old to take care of myself.
Too tired and feeling defeated, I eventually gave in without a fight.
All of my precious belongings were dispersed, and I was shipped to a nursing home.
That was the most disheartening day of my life. I felt like an unwanted human being placed in the middle of nowhere to die alone.
Even though I was wheel chair bound, my mind was lucid.
Nursing Home
In the nursing home, things never changed. It was the same routine each day. They would wake me up early, help me get dress and place me in my wheel chair.
There were no stimulating conversations or human bonding. There was no one to voice your inner feelings.
For hours, I would stare out the window with tears in my eyes hoping for the angel of death to appear.
You have no idea what loneliness is until you find yourself in that situation.
My son took my home and friends from me, and left me in a place where loneliness and sadness roamed the corridors.
Once in awhile my friends would come and visit, but the visits became less and less. The traveling was too much for them.
My son had selected a nursing home that was extremely far from where I previously lived.
At first, my son would visit two or three times a month staying for just a few minutes.
"Do you need something?…I need to go …I have something I need to do," he would say every time before departing.
"Yes, I need something. I need love and someone to speak to. I need my son," I would say to myself.
After awhile, the visits were cut down to once a month.
Loneliness
Days turned into weeks, weeks turned into months, and months turned into years. Nothing changed in my life.

Every day, I prayed to God to take me away. I no longer wanted to live.
Free at Last
Then one day, I woke up and found myself standing in front of a lifeless body.
It was the body of an old, frail woman. As I looked closely, I noticed that it was me.
At first, I was confused. "Am I dreaming?" I questioned myself.
Soon reality began to settle in. It was not a dream. I was no longer part of the earth realm. God had granted my wish.
I was free. I no longer carried the burden of earthly emotions and/or illnesses.
Feelings of depression did not exist any more.
When I turned around, I noticed familiar figures standing in front of an immense bright light.
It was my parents and grandmother. They gave me a welcoming smile and guided me into the light.
Visit to the Earth Realm
From time to time, I am allowed to visit my family down on earth.
My son, who never had time for me, is experiencing the same loneliness that I experienced.
He lives by himself, and is ill. His children rarely call or visit. He spends days and weeks in his apartment alone. He seems to be forgotten by all.
At times, he calls out my name. He has even asked God to forgive him for all his misdeeds.
Often, with tears rolling down his face, he would pray,
"Oh, dear God, forgive me. You gave me a wonderful mother, and I did not know how to appreciate her.
Now, she is gone, and I am feeling the weight of my sins.
Please, have mercy on my soul. Mother, if you are around, please forgive me for my lack of compassion,"
If there is someone in your life that has been good to you, reach out to them and tell them how much you love them.
As a person gets older, it is essential for them to know that they are loved and appreciated.
Remember, everyone needs love. Practice giving compassion and love to those who were there for you from the beginning.
A mother's love has no boundaries. Her unconditional love is limitless.
-The Love of a Mother-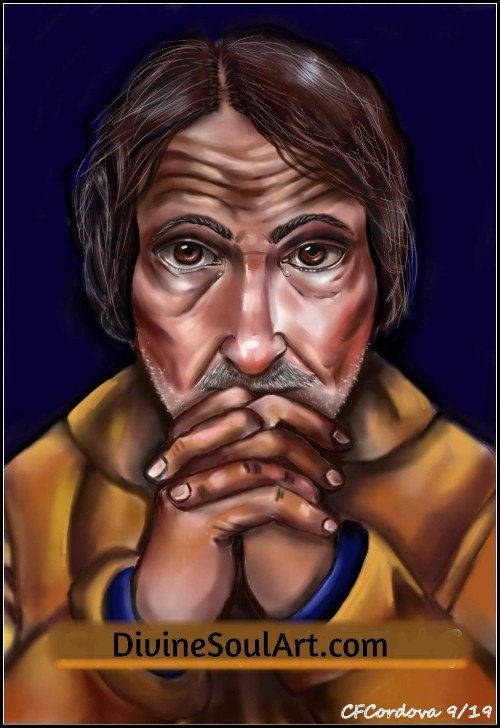 The elderly
.
---
Visit my art gallery. Click here.
Click on the fine art america logo below to view more than 600 pieces of spiritual artwork