Mother Spiritual Angel
My Spiritual Guardian
God Gift To Me
Mother Spiritual Angel Remembering My Mother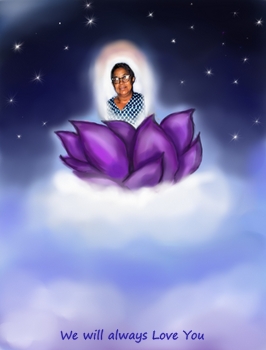 Mother Spiritual Angel
On February 2004, my mother stepped out of the body and went home.  She was not just my mother; she was my best friend and number one fan.  Although I miss her greatly, I feel comfort knowing that her spirit is around me.
I have faith, and love God because you taught me that without faith we are empty, and God is love.
I am a warrior because you taught me to struggle, never give up and believe all things are possible.
I am an adventurer because you taught me to follow my dreams.
I respect others because you taught me that we are all one.
I try to assist others whenever possible because you taught me it is the right thing to do.
I am proud of who I am because you taught me that it is my right.
I am who I am because you were by my side every step of the way encouraging and believing in me.
I will never forget you. You will always live inside my heart. Wherever you are right now, I am sending you immense LOVE. Until we meet again
From the bottom of my heart, I thank you.
If your mother has crossed over, honor her memory. Show the world how proud you are of the woman who gave you life. You can post her photo in the comment area.
If your mother is here in the flesh, call or visit her. Tell her how much you love her.  Don't wait for tomorrow, for tomorrow can be too late.
For those who never had a good relationship with their mother, forget about the past. We cannot change the past. However, we can start making good memories now in the present.  Remember, mothers are not perfect. In fact, no one is.
Women are God's special instruments who bring forth His creations. Yes, not all mothers are the same. However, they are the chosen ones who are the carriers of humanity. Without them this planet would be empty.You and I would not exist.
MOTHER
To one who bears the sweetest name, 
And adds luster to the same,
Long life to her,
For there's no other, 
Who takes the place of my Dear Mother!
(author unknown)
Visit amazon.com to purchase Spiritual Tales; Inspired by Spirit
Click on the fine art america logo below to view more than 600 pieces of spiritual artwork