Compassion and Love
The Story of a Mother
Compassion and Love
"Love Your Mother and Father"
My name is Marie, and this is my story. When I was 10 years old, my family immigrated to the United States from Jamaica. My family consisted of my mother, father, older brother and my paternal grandparents. My mother's parents died when she was very young. She was raised by her aunt who passed away when I was five years old.
From my perspective, my childhood was relatively normal. My father and grandfather worked while my mother and grandmother took care of us and the household. The importance of family values were instilled in us. My parents would tell my brother and I that a loving family was more valuable than all the riches of the world.
Education and church were primary in our family. Every Sunday, the family attended church faithfully. I enjoyed going to church. There was always some activity taking place after the services.
As for education, my father would say, "Get a good education, and the world will be yours." I always strived to be the top in my class, and was successful in doing so.
In my last year of high school, I felt in love. His name was Johnny. He was older and extremely dashing. I was the envy of all my girlfriends. For me, it was love at first sight. Although I wanted to go to college, I decided to put my college plans on the back burner and get marry. My parents were disappointed, but wished me well. Soon after graduating from high school, we got married. After two months of being marry, I got pregnant. It was the perfect fairy tale dream. However, after the birth of our son my fairy tale turned sour.
Johnny's demeanor changed completely. He was no longer the loving or charming man I felt in love with. He transformed into a vile, belligerent human being. His main issue was our son. He felt I was giving too much attention to the baby, and neglecting his needs. He viewed the baby as a potential threat. Instead of rejoicing, he shied away from his fatherly affections. After one of our numerous arguments, he walked out and never returned. Our marriage lasted two years.
Johnny had not only walked out; he had disappeared. I had no job or money. The only thing I had was a baby that I needed to support. My family welcomed me with open arms. They supported me in every possible way. My mother took care of my son, John, while I went job hunting. After several job interviews, a company hired me as a clerical worker. After two years, I was the company's bookkeeper. I stayed with the company until my retirement.
Although I dated, and had two serious relationships, I never remarried. I was very devoted to my son and did not want to disrupt our relationship.
After five years, I saved enough money to buy a house. In those days, houses were not too expensive. Every now and then, I would work two jobs. I am proud to say that my son never lacked anything. He had more than enough.
By now, my grandparents had passed away; and my brother had married and moved to San Francisco. I was extremely fortunate when my parents decided to remain with me instead of moving to San Francisco with my brother. I continued to work hard and attend college at night. After many years, I graduated from college.
One of the happiest days of my life was when my son graduated from college. When he told me that he wanted to attend a Master's program, I was elated. I gave him all the financial support he needed. I wanted him to be happy.
After two years, he graduated with a business degree. Later, he became a CPA. I was the proudest mother in the entire universe.
A year later, my father passed away. I was distraught. He was the beacon in our lives. He had always been there to guide and help us along the way. His passing was a difficult and sad chapter in our lives.
Upon his passing, it was decided that my mother would continue to live with me, and visit my brother twice a year. The arrangement was perfect since we were exceedingly close. During our time together, we traveled a lot. We always had so much fun together. Our relationship was special. I would have done anything for her.
My son, who had secured a good job, was living on his own. A year later, he got married. Soon afterward, he became a father. Joshua was the newest member of our family. Everything was perfect. I was healthy and working, my mother was living with me, and my son was happily married with a son.
Upon my retirement, things changed. My mother passed away, and my son had divorced and remarried. He was the father of four children.
I was close to my grandchildren when they were young. They would stay overnight a few times a month. As they got older, I saw less of them. Whenever my son visited, which was two or three times a month, he would say that they were busy with school work or other activities.
As for me, I kept myself busy. Besides socializing with my neighborhood friends, I attended the senior citizen community center. It was fun. We played cards or bingo and took several short trips a year. Although my family remained distant from me, I found much comfort and love from my friends.
When, I was 78 years old, I fell and broke my hip bone. I was hospitalized and had a hip replacement. During my stay in the hospital and rehab, I received more visits from friends than family.
On the day of my discharge from rehab, my son picked me up. He began to talk about nursing homes, and the many benefits they provided. When I refused adamantly to entertain his suggestion, the conversation was terminated.
During my recovery period, I had a visiting nurse and home attendant. They were so sweet and loving. Once a month, my son would visit me. His visits became quite annoying. His main topic was nursing homes. He appeared to be obsess with erroneous thoughts of me being an invalid. Every time, the topic was presented, an argument would immediately pursue causing him to storm out the door.
As for my grandchildren, they never came to visit me. No, I'm wrong. One of my grandsons did come over to ask for money. When I gave him ten dollars, he vanished quickly without saying thank you or goodbye.
My friends were my family. They would come over to keep me company. When I became strong enough to move, my home attendant would accompany me to the senior citizen center.
Two years later, I was back in the hospital. I had fallen and fractured my other hip. After a medical procedure and a short hospital stay, I was placed in a rehabilitation center. There, I stayed several weeks. My son only came to visit me three or four times during my entire stay. As for my grandchildren, they never showed up. My neighbors and friends were the ones who visited me faithfully, made me laugh and gave me love.
I returned home to discover that my days were numbered. When I was in the hospital, my son insisted that I give him power of attorney. After much thought, I gave in. I never thought he would use it against me. Behind my back, my son arranged to sell my home and place me in a nursing home. His reason was that I was getting too old to take care of myself. How would he know? He was never around to see that I was never alone. I had my neighbors, friends and a terrific home attendant.
Too sick and tired, I eventually gave in without a fight. All of my precious belongings were dispersed, and I was shipped to a nursing home. That was the most disheartening day of my life. I felt like an unwanted human being placed in the middle of nowhere to die alone. Even though I was wheel chair bound, my mind was lucid.
In the nursing home, things never changed. It was the same routine each day. They would wake me up early, help me get dress and place me in my wheel chair. There were no stimulating conversations or human bonding. There was no one to voice your inner feelings. For hours, I would stare out the window with tears in my eyes hoping for the angel of death to appear. You have no idea what loneliness is until you find yourself in that situation. My son took my home and friends from me, and left me in a place where loneliness and sadness roamed the corridors.
Once in awhile my friends would come and visit, but the visits became less and less. The traveling was too much for them. My son had selected a nursing home that was extremely far from where I previously lived.
At first, my son would visit two or three times a month staying for just a few minutes. "Do you need something?…I need to go …I have something I need to do," he would say every time before departing. "Yes, I need something. I need love and someone to speak to. I need my son," I would say to myself. After awhile, the visits were cut down to once a month.
After a few month, Betty was brought in. She became my new friend. Due to illness or death, my friends had stopped coming to visit me. Betty became my only friend. Her situation was similar to mine. We were the abandoned parents of ungrateful children.
Betty had three children-two daughters and a son. On rare occasions, her oldest daughter would drop by for a quick visit. I never saw the other two.
On several occasions, I would drop by her room and find her with tears in her eyes staring at photos of her children and grandchildren.
After two years, Betty's health began to decline. She was in and out of hospitals. Then, one day, Betty passed away in her sleep. My life was never the same after that. My only friend had gone away leaving me behind.
Although there were several patients and staff members in the home, it was not the same. The majority of the patients were either seriously ill or comatose. As for the staff, they would come and go.
With Betty gone, my life was empty. I had no friends or family. Days turned into weeks, weeks turned into months, and months turned into years. Nothing changed in my life. Every day, I prayed to God to take me away. I no longer wanted to live.
Then one day, I woke up and found myself standing in front of a lifeless body. It was the body of an old, frail woman. As I looked closely, I noticed that it was me. At first, I was confused. "Am I dreaming?" I questioned myself. Soon reality began to settle in. It was not a dream. I was no longer part of the earth realm. God had granted my wish.
I was free. I no longer carried the burden of earthly emotions and/or illnesses. Feelings of depression did not exist any more.
When I turned around, I noticed familiar figures standing in front of an immense bright light. It was my parents and grandmother. They gave me a welcoming smile and guided me into the light.
From time to time, I am allowed to visit my family down on earth. My son, who never had time for me, is experiencing the same loneliness that I experienced. He lives by himself, and is ill. His children rarely call or visit. He spends days and weeks in his apartment alone. He seems to be forgotten by all.
At times, he calls out my name. He has even asked God to forgive him for all his misdeeds.
Often, with tears rolling down his face, he would pray, "Oh, dear God, forgive me. You gave me a wonderful mother, and I did not know how to appreciate her. Now, she is gone, and I am feeling the weight of my sins. Please, have mercy on my soul. Mother, if you are around, please forgive me for my lack of compassion,"
If there is someone in your life that has been good to you, reach out to them and tell them how much you love them. As a person gets older, it is essential for them to know that they are loved and appreciated. Remember, everyone needs love. Practice giving compassion and love to those who were there for you from the beginning.
Do Not Abandon the Elderly
Love Thy Mother and Father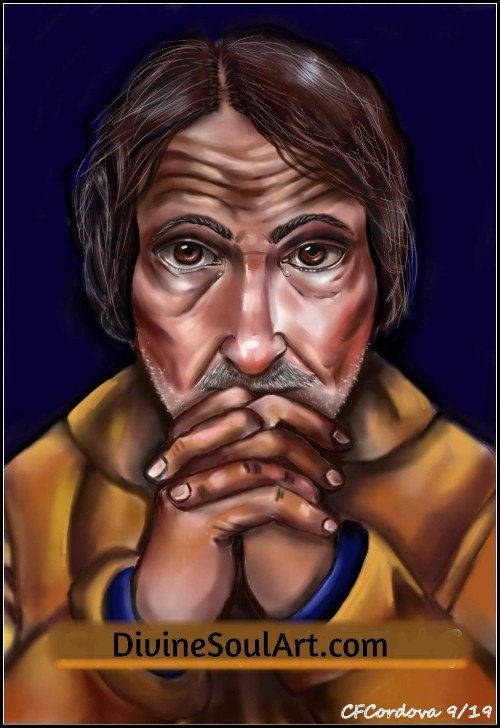 Compassion and Love, Compassion and Love, Compassion and Love, Compassion and Love, Compassion and Love, Compassion and Love, Compassion and Love, Compassion and Love, Compassion and Love, Compassion and Love, Compassion and Love Compassion and Love, Compassion and Love
---
Visit my art gallery. Click here.